Atlas Trenchless, LLC
Atlas Trenchless, LLC is recognized as a preferred contractor specializing in Horizontal Directional Drilling (HDD) and Tunnel Boring techniques in complex and environmentally sensitive terrain.
.
Horizontal Directional Drilling
Horizontal Directional Drilling is a state of the art steerable method of trenchless installation allowing product lines to be installed beneath roads, rivers, wetlands, and difficult terrain where open cut methods are not permitted, allowing minimal impact to the environment.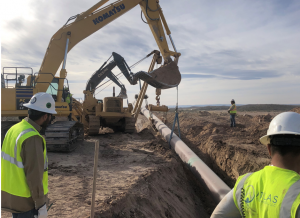 Boring Methods
Auger Boring / Guided Boring / Pipe Ramming / Tunneling
Boring techniques use technology, boring machines, and hammerheads to install pipe into the ground with precision in all types of soil conditions.